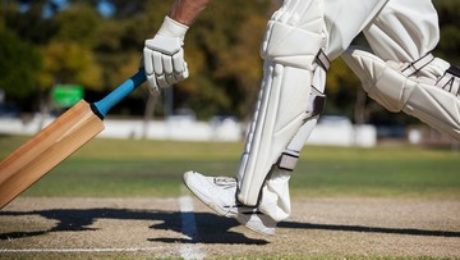 The Dr C.A. Valley T-10 Windball Competition 2018 is off to a rousing start. I have not watched an entire game but enjoyed the gasps, feigned bemusement, shouts of encouragement at the bowling, batting and fielding skills of both male and female players. I've chuckled at the bowler who went from medium fast to slow in one over. It's a sight to enjoy. Many line the shaded walkway or take in sections of the game between classes on Wednesdays.
Here's what makes the competition special. It's a 20 over Cricket competition, but using a softball. Each team must bowl 10 overs. Each team must have at least one female player who must bowl one over, with the regular cricket bowling action. Teams are allowed to have two outside players who are not faculty or staff; none USC members are usually community members from the Maracas Valley area.
Games are played on Sundays from 1:00 pm, Wednesdays from 3:05pm and Fridays from 13:30 pm and is a hit with students and the public alike. The competition is carded to run from 22nd February 2018 to mid-April 2018. We've had five games so far and the School of Theology vs ASB was a humdinger with fortunes going back and forth. South Caribbean Conference (SCC) vs CUC Secondary School was a high scoring game.
I'm loving how the competition is going. Let's hope the 'Duck' (Duckworth-Lewis System) does not have to come into play as the competition progresses. This is an excellent example of what makes USC the place to be!
---
This competition is part of S.P.E.D calender. We look forward to you joining us for remaining games! Discover USC S.P.E.D.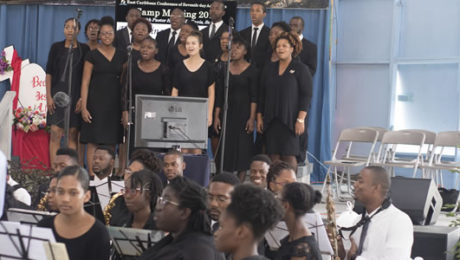 Sitting in the audience listening to the USC Group's rendition of '10'000 reasons to love our Lord' in Barbados, many listening would be hard pressed to truly appreciate the challenges the group faced just to be present. This was Saturday 31st, 2018 at the East Caribbean Conference's National Convention held at the Oldbury Campsite.
What were these challenges? Here's just a few. Not all members made the trip, and some key members of the group were not there. Personal items for some members did not reach. Some equipment was left behind. Even before leaving some questions were raised as to whether some of the equipment could even be taken on the small aircraft. Traveling parents became team chefs by default and well laid plans seemed to be useless given the unexpected circumstances. Sure there were moments of frustration, but there were more moments where God's amazing Providence shone through.
Put aside the challenges for a moment and take in the delivery of two items by the choir and orchestra during the Sabbath morning service. Sure the numbers were depleted but just listening to the two renditions, one would not know. The rendition medley 'Bless the Lord oh my soul' seems to have been delivered from the souls of musicians and singers alike giving thanks to their Creator for the highs and lows of the ongoing trip. The two pieces were rendered with gusto! They were well received by the packed congregation consisting of the main hall and two overflow tents. This was music, rather praise, not delivered with numbers, but with heart.
My mind reflected on the biblical story of Gideon, who to what seems like a humanly small number, delivered a great victory with merely 300 men. There were a few in the USC Trinidad contingent who've heard the full voice and musical complement. Amazingly, from the fifteen (15) choir members and musical ensemble members present, there was no difference! I think God understood, and angels helped out.
The USC Music group provided two pieces, the second immediately before the speaker of the day took to the podium. Barbadians love good music and the loud amens and extended clapping evidenced that the music was well received. Identifying myself as a group member many offered their thanks for the top class renditions. This was an opportunity to remind them not to miss the concert: there will be more!
I'll share some comments from the local church members: 'that music was real class', 'Hislop real like his music', 'boy dem people could real sing!'. But I like this one best, from a Barbadian with a ward presently studying at our main campus: 'now THAT is what you call USC Music!".
---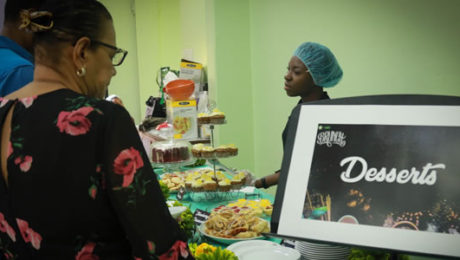 I arrived at the Music Department's Brunch on Sunday 25th March 2018 rather late, figuring I had missed all the food delights. I knew it was a food event but did not anticipate the sumptuous spread that awaited us. Warmth emanated from the hosts and hostesses who dressed in all black, were busy making sure everyone was seated and well taken care of. I was seated and served by a smiling and amiable first-year student of the School of Sciences and Technology student, Ms Jordan Hercules, who seemed to be thoroughly enjoying her role.
Due to my late arrival, I decided to select items that were still available, thus putting together a dish of tomato choka, sun-dried tomato hummus, roasted potatoes, eggs and croissant after which I settled down to eat. My host then offered juice and lemon water that completed my meal.
The band was now in full 80's jazz mode and Music Coordinator Kerron Hislop donned an 'old time' felt hat and provided sax accompaniment to the band. The scene reminded me of the old TV Jazz shows of the 70's: I enjoyed the memory throwback. Many were focused on engaging conversations and enjoyable food, but rapturous applause broke out as the sweet music offered, had moments of magnificent crescendos.
Now back to my meal, I was reflecting on how effortlessly, and with love, my eggs were prepared. The choka was on point: a spicy, peppery taste, with just enough fire to resist 'liquid cooling'. Simply put it was great food in a great atmosphere. Many of the team members who made this event a success were 1st and 2nd-year students from various disciplines, some of whom are not even music majors but nonetheless, seemed to truly enjoy a day of service.
The food was awesome and I look forward to the next Music Department food event. It's great to have a reminder that USC is more than an academic institution: it's a training ground for service, to God and humanity.
---
Connell Byron Hunte, Dept of Computer Science, covered this event on behalf of IMC.