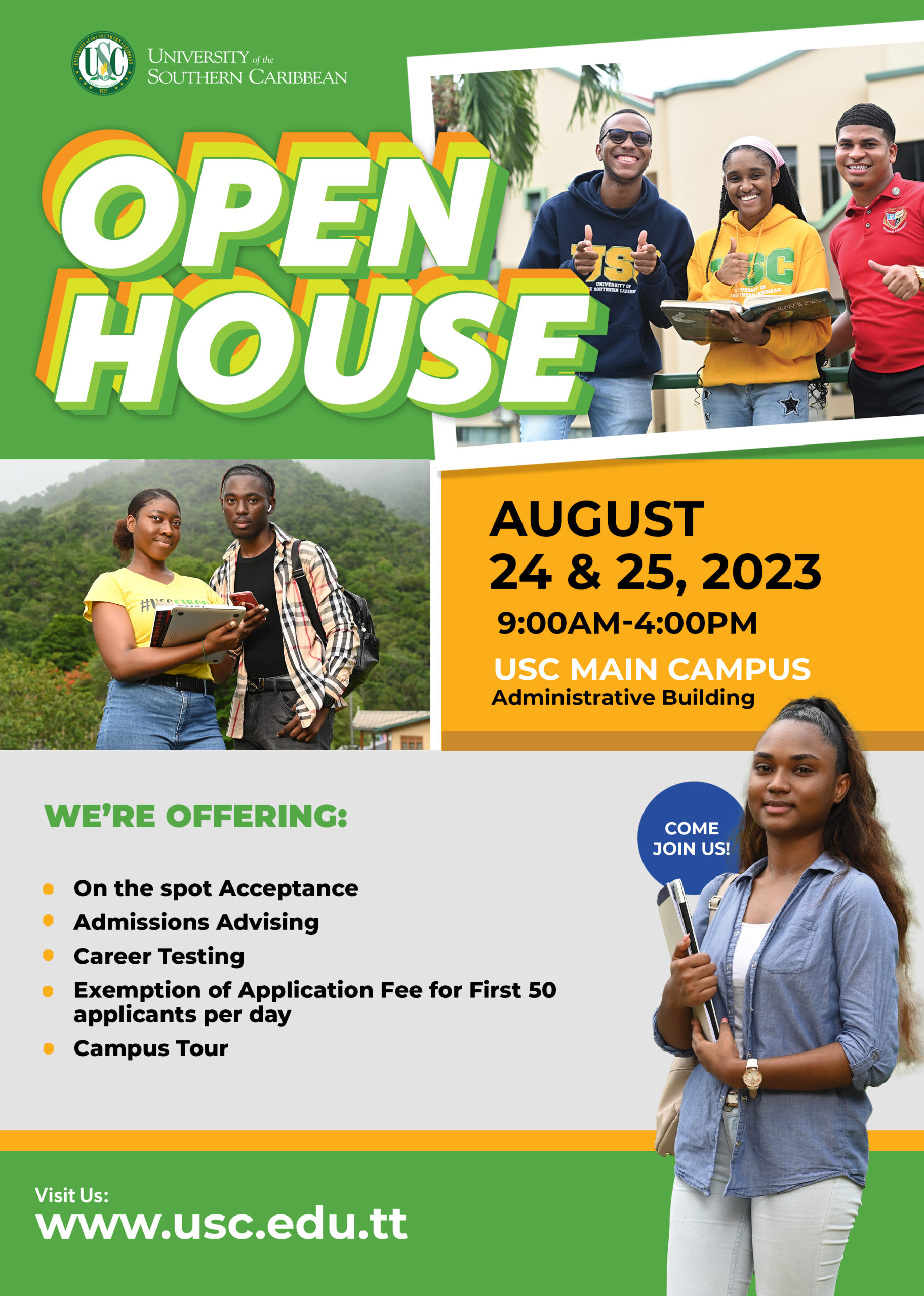 Unlock Your Future – Fee Waiver Alert! Be among the first 50 applicants each day, and we'll roll out the red carpet with a waived application fee. Your journey towards excellence begins here, without any barriers holding you back.
Reserve Your Spot Today! Don't miss out on this extraordinary opportunity to explore USC up close and personal. Secure your spot by registering now to guarantee your spot at the Open House 2023. Let us know you're coming, and we'll make sure your USC adventure begins with a warm welcome!
Discover Excellence at USC's Open House 2023!
Are you ready to embark on an educational adventure like no other? The University of Southern Caribbean is thrilled to invite you to our spectacular Open House event on August 24th and 25th, 2023!
Unveil the USC Experience: Get ready to immerse yourself in the vibrant atmosphere of our Main Campus nestled in the picturesque Maracas Valley, St. Joseph. Our campus tours will guide you through the heart of our academic hub, giving you a glimpse of the world-class facilities, serene green spaces, and bustling student life that await you.
Your Future, Right Here, Right Now: Why wait? Experience the thrill of instant possibilities with our on-the-spot processing of applications and instant issuance of acceptance letters. No need to hit the refresh button on your email inbox anymore – your future starts the moment you step onto our campus! 
Mapping Your Academic Success: At USC, your success story is our priority. Our dedicated academic advisors will be on hand to provide personalized guidance tailored to your passions and aspirations. Whether you're drawn to the arts, sciences, business, or technology, we're here to help you navigate the perfect academic path that sets you up for greatness.
Launch into Your Dream Career: Dreaming of a fulfilling career that aligns with your interests? Our career testing and planning sessions will help you uncover your strengths, passions, and potential career paths. Let's ensure that your education isn't just a degree, but a launchpad to a future you're excited about!
Undergraduate
USC offers 28 internationally accredited and recognized associate and bachelor degrees. Click below to begin your undergraduate journey at USC.
Graduate
USC's graduate programme offerings are internationally accredited and recognized. From graduate diplomas to master degrees - apply today for programmes designed to elevate your career and make you #USCSTRONG!
Transfer Student
USC continually seeks leaders, with transfer students being an integral part of our campus community. Click below for guidelines on how to become a USCian.
Professional Development Institute
Enhance your skills with our short courses designed for continuing professional development in the work place.
English as a Second Language (ESL)
Learn English at the University of the Southern Caribbean in a friendly, caring and safe learning environment.
Admission Deadlines
USC offers a rolling application process. You may apply for study for September or January semesters, but all application documents must be received for processing before the semester of intended start.