Student Advisement Centre
The Student Advisement Centre (SAC) provides an integrated approach to student advisement and development through consistent and quality advice to students. This integrative approach to Student Services is a student-centered method that allows students to access timely advice from different divisions under one roof. The SAC facilitates networking and referrals in quality time and reduces the anxiety and frustrations of finding advisors and staff in different departments. To this end, the Centre provides advice, support, academic counselling and mentoring.
Vision
SAC will be a trusted source of advising excellence, providing support and guidance to students, to facilitate their intellectual and professional development.
Mission
To provide a friendly and professional advising experience to engender student success.
Goal
To enable students to successfully matriculate in an empowering and eustress environment.
Objectives
To assist students in making informed decisions about their academic journey.

To facilitate an understanding of the purpose of higher education.

To enable the students to act and think independently.
Core Services
Services provided by the SAC are many and critical to the student's success:
Provides Study Skills & Examination Preparation Seminar

Facilitates Referrals of Students for Spiritual Counselling

Facilitates Referrals of Students to the Counselling Department

Provides Training for the Use of the Electronic Academic Management System AEORION

Offering of Caribbean Secondary Education Certificate (CSEC/CXC) Classes
Offering of the Pre-University Certificate (PUC) Programme

Academic Advising

Assistance with GPA Calculations

Process and Monitor Probation Students

Process and Monitor Provisional Students

Advises on Program Guides

Facilitates Academic Progress Reports
Facilitates Withdrawal Process

Provides Career Counselling Services

Provides Freshman Advisement Services

Provides Subject Tutoring Services
Student Advisory Services
The Academic Advisors of the SAC provide the following services:
Academic Bulletin and Policies

Forms and Processes

General Education Requirements for Degrees

Codes of Conduct

University Dates and Deadlines
Codes of Conduct

University Dates and Deadlines

Transfer Credits
Incompletes

GATE

Exam Regulation
Academic Advisors
School of Social Sciences
Academic Advisor: Mrs. Lois Baynes

Email Address: baynes_lois@usc.edu.tt

Office Contact: (868) 662-2241 ext. 1600
School of Science, Technology and Allied Health; School of Nursing
Academic Advisor:  Mrs. Kathleen Lewis

Email Address: lewisk@usc.edu.tt

Office Contact: (868) 662-2241 ext. 1603
School of Business & Entrepreneurship; School of Education & Humanities; School of Theology & Religion
Academic Advisor: Mrs. Nicole Ottley

Email Address: nottley@usc.edu.tt

Office Contact: (868) 662-2241 ext. 1602
CSEC Classes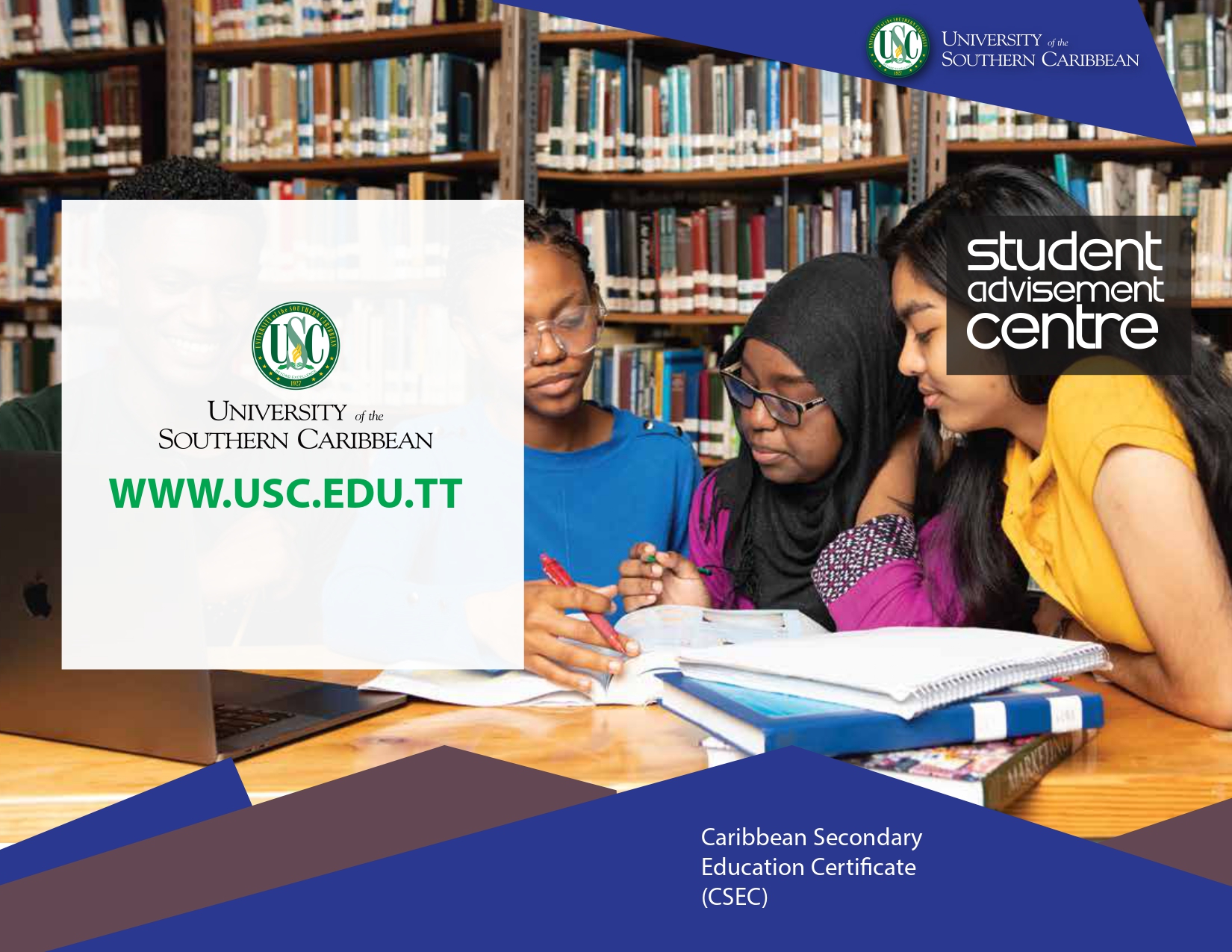 Pre-University Certificate