Thursday, 07 October 2021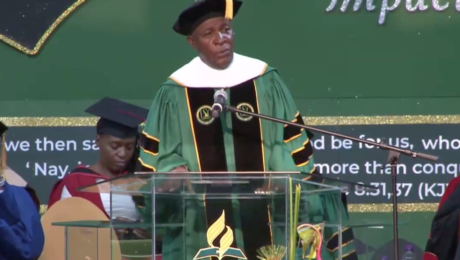 On September 25th 2021, the Church History Suite at the Seventh-day Adventist Theological Seminary (SATS) at Andrews University (AU) was named after the very influential, retired professor and pastor, Dr. Walter Baxter Theophilus Douglas. Positioned in a conspicuous place of honour on the upper floor of the building, is an artist's portrait of the man who in 1972, became the first person of colour to join the teaching faculty of the SATS at AU. Dr. Douglas served with distinction as a scholar and member of teaching faculty at the ATS and in several other roles at AU for thirty-five years.
In his acceptance speech at the naming ceremony, Douglas, an alumnus of Caribbean Union College, Andrews University, McGill University and McMaster University chose to single-out Caribbean Union College (CUC) – now the University of the Southern Caribbean (USC) – as the veritable point of original inspiration for the distinguished life of service he has led.
Walter Douglas – at the insistence of his mother – came to the campus of Caribbean Training College (the immediate institutional forerunner to CUC) in the early 1950s from his native Grenada. He was an impressionable, eager, and intellectually curious sixteen-year-old. His studies on the campus prepared him for the gospel ministry in the first instance, and also laid a solid foundation for his illustrious career as a scholar, consultant, servant-leader and the many other interesting things he has done with his life.
Douglas graduated from CUC as part of the very impressive class of 1958 and entered a brief stint of pastoral ministry in Port of Spain, Trinidad. His ambitions quickly took him to AU where he completed a baccalaureate degree in theology. He soon returned to CUC in 1963 as a member of its teaching faculty. Later in that year, he married Yvonne Sebro, an alumna of CUC and the daughter of Pastor Frederick A. Sebro – one of the first male students at East Caribbean Training School (the earliest formation of USC). Yvonne has been his supporter and partner in ministry, parenthood and life for almost fifty-eight years – and yes, they had a CUC campus wedding.
In 1964, Walter Douglas was one of quite a few youthful members of CUC's teaching faculty to leave for North America to further their studies. He returned to Andrews University and there, as an exceptional graduate student, he left such an impression that soon after he moved to Canada for further graduate study at McGill University, he was invited by then AU president, Dr. Richard Hammill, to join the teaching faculty at the seminary. Douglas negotiated a postponed acceptance in order to complete his studies at McGill. In 1972, he took up what by then was a three-year old invitation and joined the teaching faculty at the seminary. He specialized in church history and the history or religion. He later added the emerging field of multiculturalism and diversity studies to his academic and professional skillset and was the founder and first director of The Institute for Diversity and Multiculturalism at AU.
In the privileged position of professor at the seminary – the epicenter of Adventist thought, research, scholarship and pastoral training – Dr. Douglas immensely impacted the world church directly and through his former students. For seminarians, being taught by Dr. Douglas became a rite of passage. The full stretch of his influence there will only be known when the records of heaven are unsealed. As for the more measurable, his exceptional work as a teacher and scholar at AU, earned him the John Nevins Andrews Medallion in 1993 – the superlative award AU reserves for its best scholars.
The demands of academic and professional responsibilities did not ameliorate the burden of his call to pastoral ministry and the pulpit. He was one the founders of the All Nations Seventh-day Adventist Church in Berrien Springs, Michigan, USA and was its senior pastor from 1980 to 2004. Even after his retirement from AU, Dr. Douglas continued active pastoral ministry in Florida.
Beyond the cloisters of the denominational work, Dr. Douglas' expertise and body of work in the field of multiculturalism and diversity studies brought him many special assignments in various parts of the world. One of the most memorable of these assignments for him, was his call to participate in an interim transitional government in his birthplace Grenada, after the fall of the People's Revolutionary Government and the US led military intervention there in 1983.
In a reflective conversation with Dr. Colwick Wilson, the current president of USC, Dr. Douglas expressed thanks to God for the privilege and opportunity of spending thirty-five years in service to Andrews University and the world. He considered it an opportunity to represent CUC/USC at that level and that it was an honour for him to do so. He added that no man is an island and as such, his success is tied directly to the University of the Southern Caribbean. It was at CUC/USC that he experienced a call to ministry; it was there that he found Jesus; and it was there that he found his wife. Dr. Douglas even somehow managed to 'grand-father' the impact of CUC/USC into his explanation of the success of his three very accomplished adult children. He argues with a persuasive conviction that the blessings that he and his wife received from CUC/USC translated into opportunities for their children to be educated at some of the finest universities in North America and to experience outstanding successes in their own careers. Their children are Vonda, a pathologist; Derek, an attorney, university administrator and former aide to former US President Barack Obama; and La Vonne, a clinical psychologist.
The president, administration, faculty, staff, student, alumni, family and friends of the University of the Southern Caribbean here record heartfelt congratulations to Dr. Walter B.T. Douglas on his most recent honour and the inspiration and pride it carries for the people of the Caribbean.
Wednesday, 11 August 2021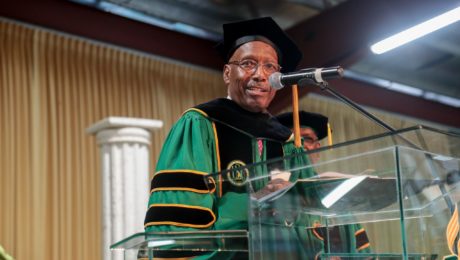 Gordon Ornsley Martinborough was born to Maisey and Gordon Martinborough Snr. in the colony of British Guiana (now the Co-operative Republic of Guyana) on November 12th 1936. He was the first of their four children. His father was employed as a policeman while his mother was an industrious homemaker. And so, the circumstances of Pooksie's childhood were humble yet stable. Pooksie was his childhood alias, his home name. He is remembered by his sister, Shirley, as being a caring, bread-baking, older brother, tainted too by the common mischievousness of boyish childhood, but exceptional in his pursuit of a relationship with God and manifesting from early on, an intense devotion to prayer, biblical and academic scholarship and to evangelism and mission – a precocious priming for the greatness he would become when he would put away childish things. He also displayed in his youth an affection for church work. This blossomed in his teenage years as a member of the Buxton Seventh-day Adventist Church. Here he served as the leader of the local Missionary Volunteers Society (now called the Adventist Youth Society). In this capacity, his skills as an organizer and church leader truly developed. Gordon purposed to enlarge the territory of his preparedness for the Master's service and his teachability abetted this well.
After completing his secondary education, Gordon Martinborough entered the teaching service and was assigned to the Enmore Government School. There, he excelled as a young teacher, so much so that when he wrote the first round of examinations in a three tiered teacher qualification system, he was adjudged as being qualified to be exempted from the second round.
In 1959, young Gordon Ornsley Martinborough and his best friend Roy Israel McGarrell, who also taught at the Enmore Government School, demitted the teaching service together and enrolled at Caribbean Union College (now the University of the Southern Caribbean) to study for the gospel ministry. Predictably, Gordon took with him a steadfast fidelity to fineness and was determined to succeed with the help, or above the hindrance of his instructors. His commitment to an active prayer-life did not suffer the pressures of study. His comrade, Roy, remembers of their college years that they would habitually "rise at 5:00 a.m. when sleep was 'sweetest' to go to the old broom shop to pray. We prayed together in the first session, then we separated to have our personal conversations with our heavenly Father." With the winning combination of such faith and hard work, Gordon did exceedingly well in his studies at CUC so that he was selected as the valedictorian of the class of 1961.
It is at CUC, too, that he was drawn to Waveney Hinds who reciprocated his interest. Deep love and friendship resulted and in 1963 they were married and remained happily so, until the time of his passing. Gordon and Waveney Martinborough were soulmates, partners in parenthood and in ministry.
Pastor Gordon Martinborough's denominational career has been inspiring and impactful. He has served the church in various capacities at various rungs of the structure of the world church, resolutely maintaining a passion for evangelism and keeping a wide berth from mediocrity and the ease of ordinariness. After being employed as an intern and district pastor in the Guyana Mission, a discomfort with his probably overworked voice, led him to Loma Linda Hospital in California, USA in search of a remedy. While there, he grasped the opportunity for further education, earning a Baccalaureate degree in Religion and History in 1972 and an MA in Church History in 1976 before returning to Guyana. In 1980, he was elected to the presidency of the Guyana Conference (the Guyana Mission became a self-supporting conference in 1976).
Following an outstanding term as Personal Ministries Director of the Caribbean Union Conference (CARU), he was elected to its presidency in 1991. As President of CARU, he assumed the chairmanship of the Board of Trustees of Caribbean Union College. In this capacity he worked with board and the administration of then college president Dr. Sylvan A. Lashley to persuade the government of the Republic of Trinidad and Tobago to forgive an insurmountable TT$12,000,000 debt that encumbered the college. Here, the fortuitous entering wedge was probably the goodwill generated with government insiders after the Executive Secretary of CARU, Dr. Peter J. Prime, found the lost wallet of a senior Cabinet Minister and returned it to him unharmed – God's ways are past finding out.
Under Pastor Martinborough's chairmanship and Dr. Lashley's presidency, the enrolment at CUC grew from around 300 students in 1991 to in excess of 1000 students in 1995, residential accommodation for students was expanded, the Science Complex was completed and furnished and the University Auditorium was relocated to a far more commodious space at the present site. Dr. Lashley recalls that:
Every day, at noon-day, he would call me to pray for the campus. This made an indelible impression upon my mind. He displayed a high sense of trust and faith…. Dr. Martinborough championed family life as a ministry and this became a part of my leadership practice also… Thank you Dr. Martinborough for your triumvirate example of prayer, faith and family. It has shaped my own ministry of practice and has become your gift to leadership in the Adventist world church.
In 1995 he rose to the Inter American Division where he served in various roles including Associate Ministerial Secretary, Vice President, Division Evangelist and Co-director of Family Ministries with his wife, Waveney. Pastor Martinborough was also instrumental in bringing the Adventist Laymen's Services and Industries (ASI) movement to the IAD. Throughout his meteoric flight of promotions in his denominational career, his passion for soul-winning and developing superior implements for evangelism never abated. Gordon Martinborough was a thinker, a teacher and a prolific writer who thought, taught and wrote to his ministerial calling and practice.
Consonant with this, he wrote and published several manuals, Bible lessons, seminars and books on practical, family life and health evangelism. His written works have been published in several languages and successfully deployed in diverse cultures globally. His published works include: New Life Campaign Kit (1979), Operation Andrew Manual (1980), Health and Life Lessons (co-authored with Pastor Collin Parkinson (1984)), Family of God Crusade Handbook (1989), Family Life Evangelism Manual (1992, 2004 & 2010), I Love You (1995), Happy Family Bible Seminars Study Guides (2002 & 2006), Health Evangelism Campaign Manual, (2018) and the Healthy and Happy Seminar Study Guides (2018). The number of souls persuaded for Christ through the far-flung reach of this aspect of his contribution can only be numbered by heaven. Martinborough also published articles in the Adventist Review and the Ministry Magazine.
In 2005, he retired from denominational employment but never abandoned his duty to the gospel commission. He co-founded Happy Family Bible Seminars International with his wife, Waveney, and targeted the global community with their brand of practical family life evangelism and wellness. The programmes they have produced for television have been aired regionally and globally on 3ABN, Safe TV, Hope TV and LLBN.
Pastor Gordon Ornsley Martinborough has led an incredibly inspiring life that has personified the mission and motto of USC, his alma mater. He has modelled what an "extraordinary servant of God to humanity" looks like and in his 84 years on this earth has managed to go "beyond excellence!" For his life and work, the University of the Southern Caribbean conferred on this deserving recipient the Doctor of Divinity honoris causa at its eighty-fifth graduation ceremony in 2018.
The ultimate valediction for a life so richly lived composes a swansong of complex and variegated emotions – the melancholy of bereavement for precious loss co-mingled with the celebration of triumph, achievement and completion.
The board of trustees, administration, faculty, staff, students and community of the University of the Southern Caribbean joins in the mournful celebration of the life and work of the late Dr. Gordon Ornsley Martinborough. We express our heartfelt condolences to his wife Waveney, their three children, Dr. Esther Biamonte, Samuel and John Martinborough, their son-in-law, Dr. Marco Biamonte, his sisters, Dr. Shirley McGarrell and Mrs. Dolly Teixeira, their husbands, Dr. Roy McGarrell and Clement Teixeira and a host of cousins, nephews and nieces, personal and family friends.
Another decorated soldier of the cross has been called home to rest after serving distinguished tours of duty in the Master's service. Psalm 116:15 instructs us that "Precious in the sight of the Lord is the death of His saints." The Lord counts it as "precious" that Dr. Gordon Ornsley Martinborough is finished with the troubles of this world. May we allow the life of this exemplary alumnus to inspire us.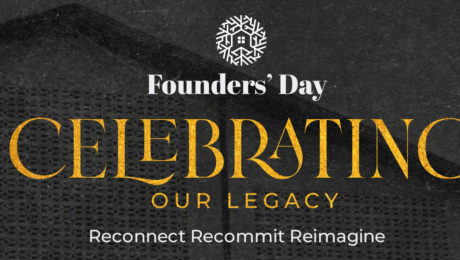 Founded in 1927 the University of the Southern Caribbean (USC), the longest serving higher education institution in the southern Caribbean, celebrates 94 years of providing transformative education. On the weekend of August 27-29, 2021, USC will climax with apposite fanfare the celebration of our 94th anniversary.
Hosted by our 29th president, Dr. Colwick M. Wilson, USC's administration, faculty, staff, and students invite you to our Founders' Day 2021 celebration. Our festivities this year, themed "Celebrating our Legacy: Reconnect, Recommit, Reimagine" will intentionally optimize the advantages afforded by virtual communication technology to tightly wrap the globe with rich opportunities for USCian patriotism, comradeship, exchange, sharing and the reunion of USC alumni and friends wherever they are.
Beginning on August 1, 2021, as we countdown to Founders' Day 2021, our website, social platforms and other media will come alive with stories and memories of our alumni who are #USCSTRONG, tributes to our beloved alma mater, and visions of the present-day USC continuously moving Beyond Excellence!
For a schedule of the weekend's activities and further initiatives, visit: usc.edu.tt/foundersday