Author: Trea Johnson
Bright smiles and cheerful singing filled the atmosphere at the Guyana Satellite Site as University President, Dr. Colwick Wilson, made his first visit to the site. Dr. Wilson was accompanied by the Vice President, Student Services and Enrollment Management, Ps. Onesi Lafleur, and Interim Dean of the School of Business and Entrepreneurship, Ms. Sherri-Lyn Legall. This inaugural visit is a big deal as the president and his able team placed much emphasis on the university's 'Strategic Plan – SP 100' and his 'One USC' vision.
The university's strategic plan will be executed over the next five years as USC works towards its centennial year. Dr. Wilson's 'One USC' vision encourages oneness and unity across the sites and campuses. It encourages a greater sense and feeling of belonging especially at the satellite sites and extension campuses, so whether one is in Guyana or St. Lucia, or even South Trinidad, we are 'One USC'. The President, in his address to students, emphasised the importance of being of exemplary quality and character as they transition through life. His intention is that the seeds planted in each student prepare them not just for four years, but it exceeds that by even forty.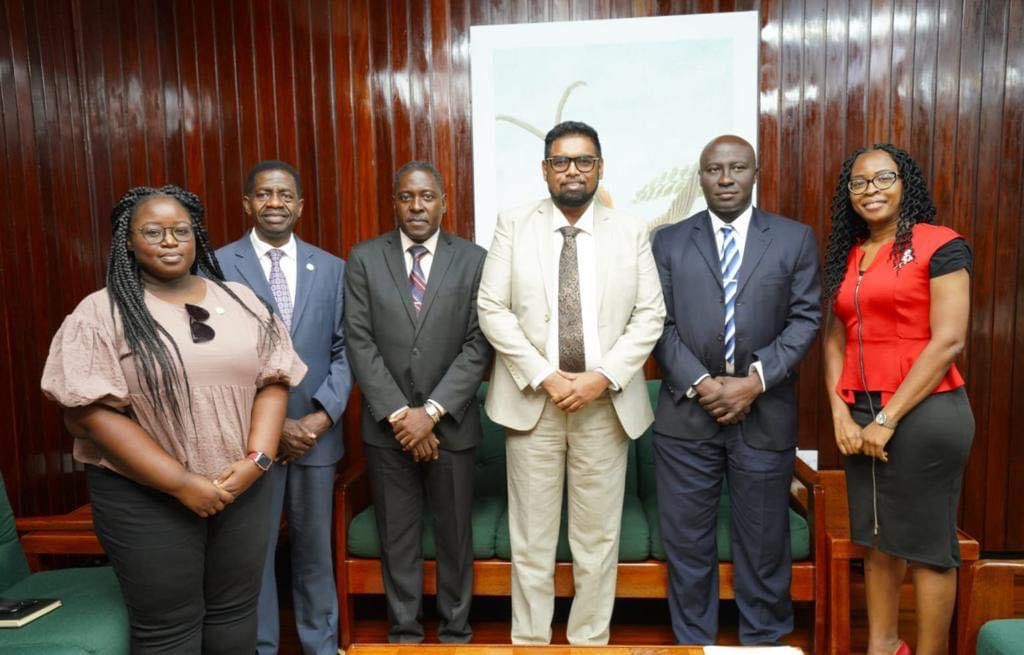 USC Guyana has more than three hundred (300) students enrolled at the site and along with the staff, they are excited to propel Dr. WIlson's 'One USC' vision and 'Strategic Plan'. The week-long visit includes meetings with the students, Ministers of Government, and other key stakeholders of the institution. The week commenced with a focus group chaired by Ms. Sherri-Lyn Legall which engaged students, alumni, friends, and other stakeholders; its purpose, to enhance the University's strategic plan. The vision 'One USC' and strategic plan 'SP 100' seeks to encourage partnering with each other to solve issues in society. It places much emphasis on collaboration and ultimately taking the University 'Beyond Excellence'.
The team has since made notable strides as they formed many necessary partnerships. After three days and several successful meetings and collaborations, the team is charged with information necessary for ensuring a successful USC. The team has since met with the President of Guyana, His Excellency Dr. Mohammed Irfraan Ali, Hon. Minister Savitri Sonya Parag, Guyana's Minister of Public Service, Professor Jacob Opadeyi, Director, Guyana Online Academy of Learning, Dr. Deborah Jack, Director, National Accreditation Council, The Guyana Conference of Seventh-day Adventists administrators, Hon. Priya Manickchand, Minister of Education, Hon. Kwame McCoy, Minister within the Office of Prime Minister and Hon. Nigel Dharamlall, Minister of Local Government and Regional Development. With many more meetings and collaborations ahead, God's wisdom and guidance are continually sought.