By Simone Augustus & Peggy Guerrero
The University of the Southern Caribbean (USC) has embarked on a mission to foster sustainability, enrich the lives of its students, faculty, and the wider community, and promote educational excellence with the grand opening of the USC Kind-hearted Thrift 'N Valley Store. This initiative, proposed by distinguished USC alums and coordinated by Mrs. Sharon Ramkissoon-De Freitas, USC's Director of Business Development, goes beyond a typical thrift store, serving as a testament to USC's commitment to nurturing the head, heart, and hand of its community.
On Thursday, April 27, 2023, the USC Kind-hearted Thrift 'N Valley Store was officially inaugurated in a vibrant ceremony held at the USC Student Lounge. The launch event welcomed a diverse turnout of USCian students, faculty, staff, and administrators who gathered to support this noble cause.
At its core, Thrift 'N Valley is not merely a store; it's a vision brought to life. This venture is designed to provide affordable shopping options for individuals and families, but its significance extends far beyond. It stands as a beacon of sustainability, fostering a culture of socially responsible consumerism by accepting donations of gently used clothing, furniture, and household items. What sets this venture apart is its pledge to channel its profits towards enhancing the experiences of students in need through scholarships. These scholarships will contribute to the operations and quality of life among students, faculty, staff, and the broader community.
The USC community, comprising over 2,500 students spread across seven campuses in Antigua, Barbados, Guyana, St. Lucia, and Trinidad and Tobago, has shown tremendous support for the Kindhearted Thrift 'N Valley store since its inception, just four months ago.
Generous donations from various quarters have poured in, including contributions from foreign alumni and friends like Colwick & Deleise Wilson, Cheryl Wilson, Nicole Archer, and the North America Alumni Association. These contributions have been instrumental, with an average estimated value of TTD$7,000.00. USC's dedicated staff and faculty have also joined the cause, with over a dozen members contributing items to the thrift, averaging TTD$4,000.00 in value. Furthermore, the store has received support from friends and the local and foreign community, who, although not directly affiliated with USC, have donated items averaging TTD$10,000.00 in value after learning about the project.
To ensure the thrift store remains relevant and accessible to its target market, USC has invested an average of TTD$15,000.00 in supplies, with an average purchase value of TTD$40,000.00. In its short existence, USC Thrift has achieved remarkable sales nearing TTD$65,000.00, with stock on hand averaging TTD$45,000.00.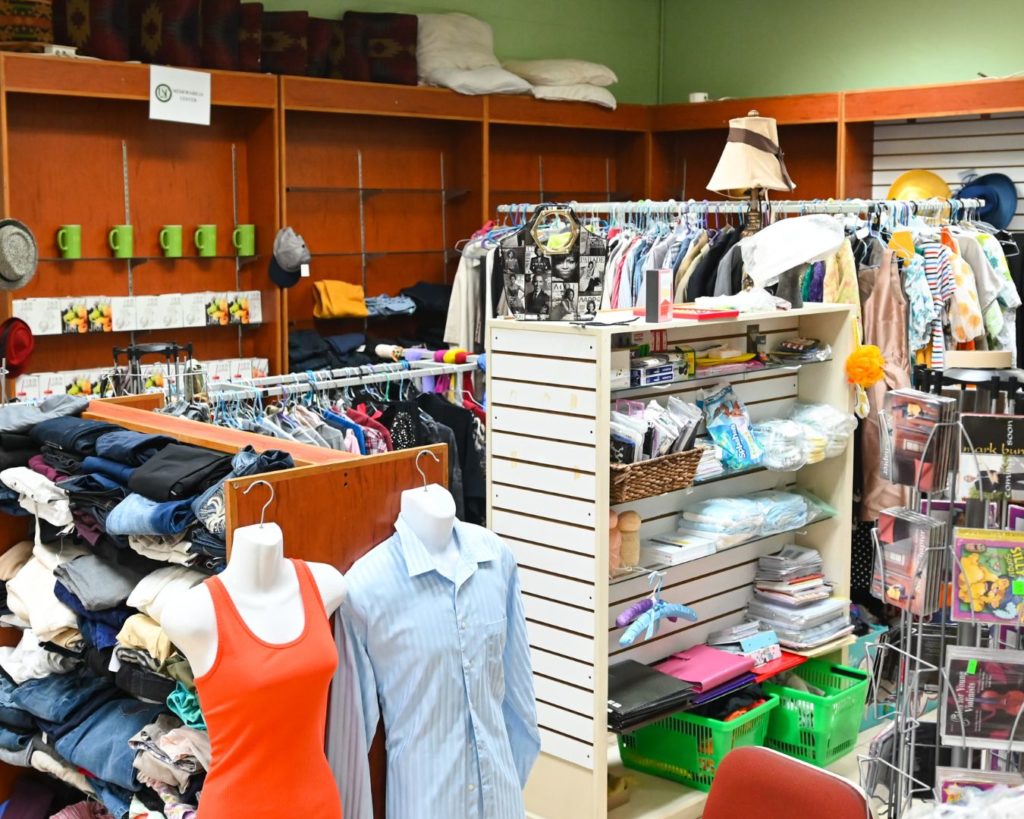 Looking ahead, the Kindhearted Thrift 'N Valley store is poised to become a cornerstone of USC's efforts to support its students. A local donation drive is already in motion, with companies and organizations like The Tourism and Hotel Association of Trinidad and Tobago, Associated Brands, Bermudez Biscuits, and Terra Caribbean being approached for support. As the store gains momentum, it is anticipated to significantly impact the USC community and beyond, fostering a culture of socially responsible consumerism and inspiring more initiatives that align with these values.
The Kindhearted Thrift 'N Valley store invites all USCian families and the wider community stakeholders to join in this noble cause, contributing to a future where every student has the opportunity to go beyond excellence.
For more information about the USC Kind-hearted Thrift 'N Valley Store and how you can contribute or donate, please visit usc.edu.tt/thrift.