Author: Dave V. Cassie, EdD, Assistant Professor, Department of Biological Sciences
The University of the Southern Caribbean held a simple tree planting activity to commemorate Earth Day & World Environment Day 2022 under the themes "Invest in Our Plant" and "Only One Earth" respectively. The tree planting activity took place on July 14, 2022 on a small mound overlooking the recreation field between the Maracas SDA Primary School and the La Realista Building on the main campus, Maracas, St. Joseph. Seedlings were donated by WASA's Adopt the River Program which included fruit trees as well as wood trees. In the photo, below a small party of officials were gathered to plant a Five Finger tree as a ceremonial gesture to highlight the events as well as mark the further collaboration of WASA's Adopt the River Program and School of Sciences, Technology & Allied Health on a river project in the coming academic year.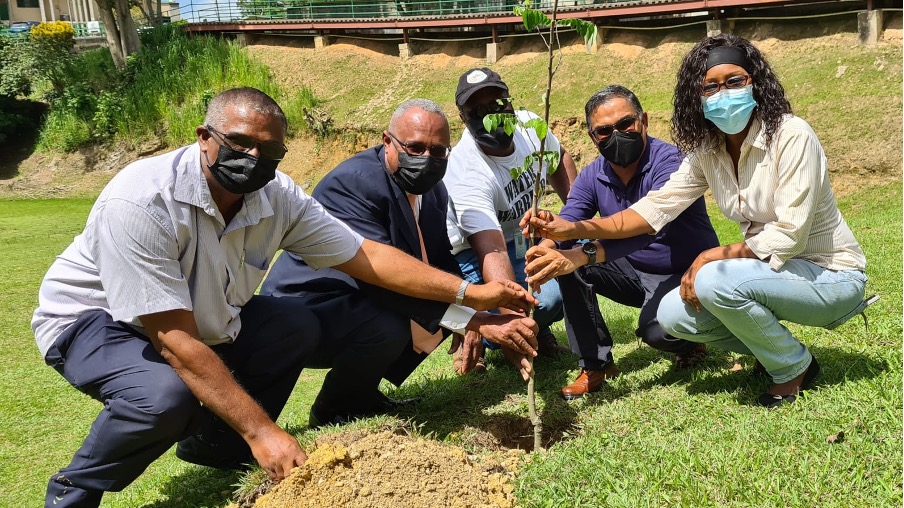 WASA's Adopt the River Program has been associated with the School of Sciences, Technology & Allied Health since 2020 just prior to the COVID-19 pandemic and participated in the Science Week 2020 Symposium: Water & Climate Change. Due to the many restrictions related to the pandemic there has been limited engagement over the last two years but it is hoped that in the new academic year 2022_2023 that a river project will be initiated involving the community stakeholders, students and faculty and staff of USC. Certainly this is an investment for the future of the Maracas Valley, the country and the planet as a whole.