Authored by: Shelley Lyons, Assistant Professor & Publications Officer, USC Faculty Senate
The quest to measure a nation's President's initial days in office began rather memorably with US President Franklin Delano Roosevelt in 1933. He began his presidency during a very challenging time in American history: the Great Depression. He coined the "first 100 days in office", which he began by launching many critical initiatives to bring relief to America's devastating economic crisis. This Americanism that has become a ubiquitous metric of the early impact of leaders, has its original association with what for the US – and possibly the world – became presidential greatness.
In July of this year, the Board of Trustees of the University of the Southern Caribbean appointed Dr. Colwick Mervyn Wilson as President of the university. His appointment, like Franklin D. Roosevelt's, comes at a very challenging and memorable time in history: this time, it is during the COVID-19 pandemic.
So, just as many presidents after Roosevelt have been assessed for their likelihood of a successful administration, the first 100 days of Dr. Wilson's presidency are presented here as a means of sharing his initial strategies, that will ultimately become part of his legacy.
Dr. Colwick Wilson was born in Guyana and is a proud alumnus of CUC/USC. He studied Theology as a student at CUC/USC and following a stint of pastoral practice in the Guyana Conference, went on to the US where he completed a Master of Arts degree in Sociology from the University of Michigan, a Master of Arts degree in Leadership and Counseling from Eastern Michigan University, and then a PhD in Sociology from the University of Michigan.
Dr. Wilson is married to Dr. Deleise Cole-Wilson and together they have two adult daughters Chidinma Wilson and Corliss Wilson.
His appointment to USC was received with delight and anticipation. Though, it was the first time in the history of the ninety-four-year-old institution, a presidential appointee was interviewed, introduced and installed remotely.
In his position as President Elect, while still in the US, the Guyana American Missionary Endeavour hosted a virtual event, "Let's Talk with President Wilson" that revealed enthusiastic national, regional and international support for his election. This was on April 24th 2021.
Thereafter, Dr. Wilson engaged in many programmes before physically arriving on the main campus. These included the commissioning and dedication ceremony for the new University Auditorium and home of the School of Nursing and Allied Health on May 26, as well as the eighty-eighth graduation exercises from June 18-20, where he participated as President Elect and guest of honour.
Dr. Wilson officially assumed duty as President on July 1st, 2021.
From his first day in office, Dr. Wilson has kept quite a hectic schedule of internal and external engagements with stakeholders that has included appearances at alumni activities, fundraising ventures, the annual Colloquium and quite a number of introductory meetings and courtesy calls with leaders in denominational, state and civic organizations.
He has resurrected the celebration of Founders' Day at USC and this year the commemoration was themed "Celebrating our Legacy: Reconnect, Recommit, Reimagine". This programme was truly a strategic outreach that allowed USC to reconnect with many alumni family, and friends, who have become ambassadors that exemplify USCian men and women, across the globe. Founders' Day 2021 also saw the launch of Dr. Wilson's "Get on the Bus Fundraising Campaign". Drawing on the metaphor of a Caribbean bus-ride outing, the campaign appeals to all supporters of our university to purchase actual tickets and take an excursion with us to a stronger university that is enabled to meaningfully improve value proposition to the church and its young people and to the Caribbean region.
Dr. Wilson has also set his eyes on the historic milestone of USC's 100th anniversary celebration, due to take place in 2027. That anniversary celebration, he envisions, will be unlike any in USC's history.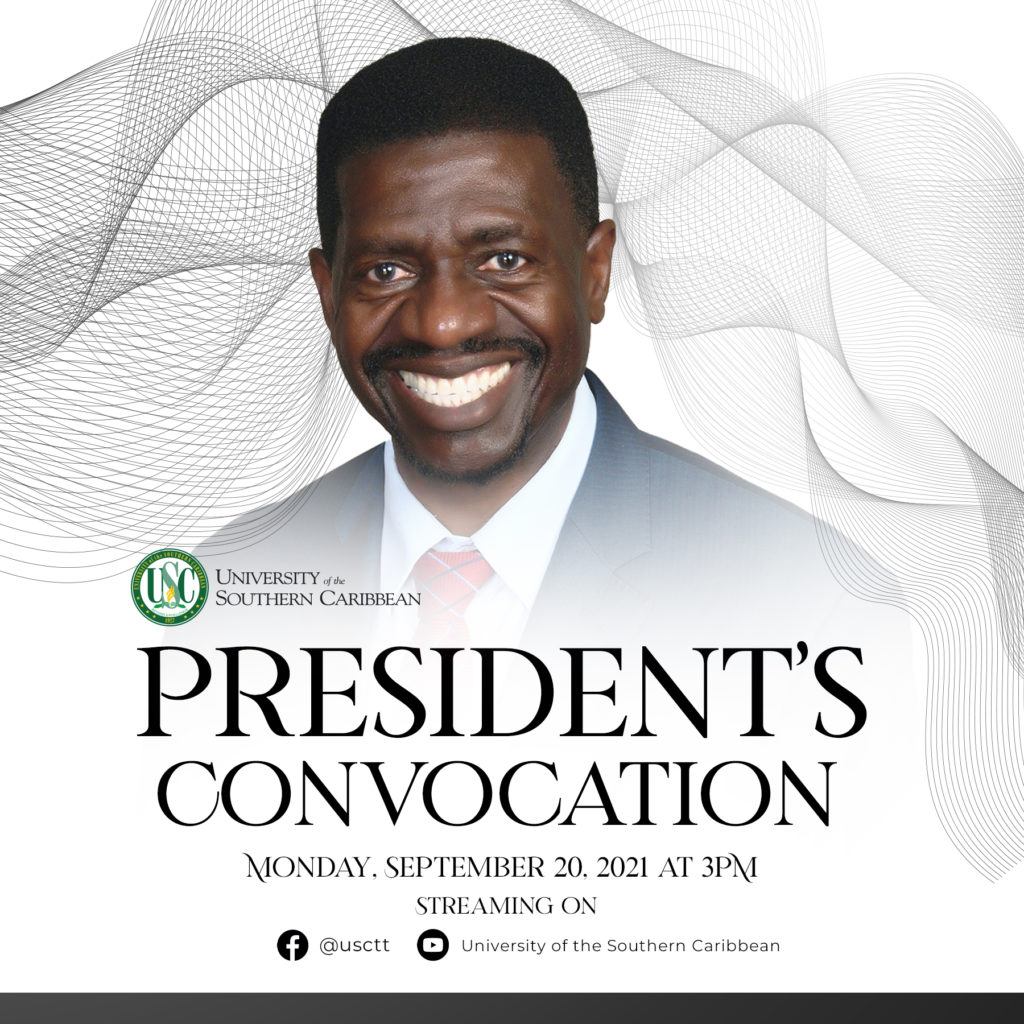 Since Dr. Wilson's arrived on the main USC campus in Maracas, St. Joseph, Trinidad and Tobago, he has hosted the President's Convocation. This was held in September and showcased never before seen snippets of USC's deans' acting skills and creative prowess. The President's Convocation was memorably encapsulated "Living Courageously: Faithfully and Fearlessly". His training in hermeneutics and experience in motivation shone brightly.
Dr. Wilson has met with the Honourable Esmond Forde, Member of Parliament for the constituency of Tunapuna, and Deputy Speaker of the House of Representatives who paid him a courtesy visit on September 30th, 2021. This was an introductory gesture to ensure the partnership and cordial relationship between the university and its neighbouring constituency.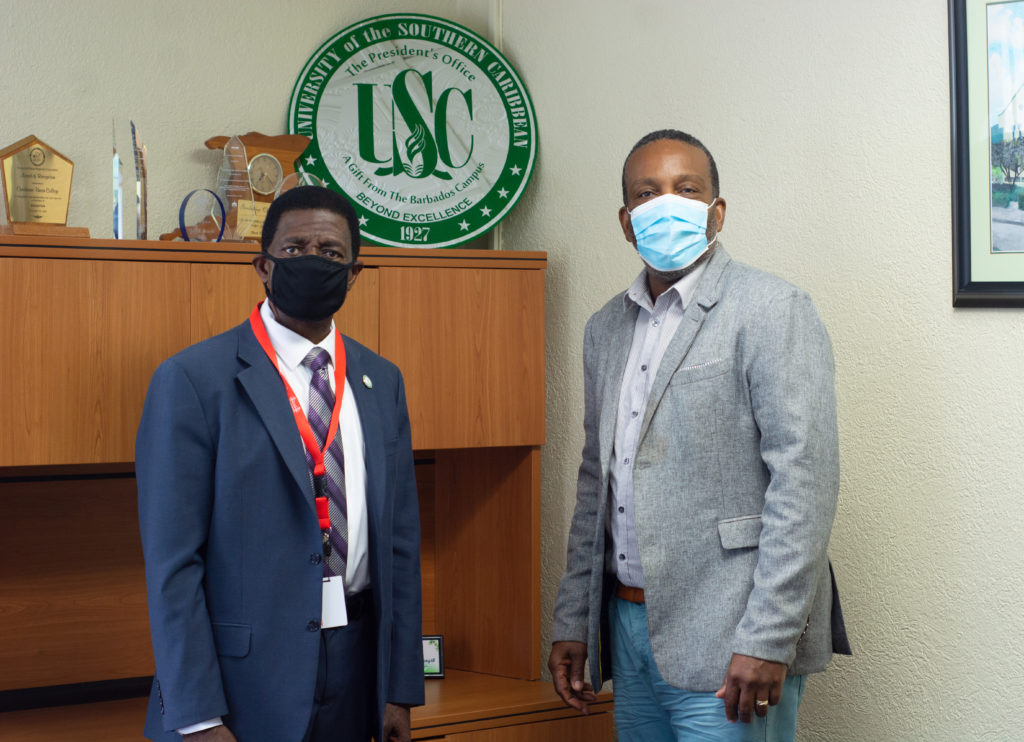 On his 100th day in office, Dr. Wilson met with the USC Faculty Senate, the elected representatives of the faculty, and recounted important milestones.
He has held town meetings with internal stakeholders including deans, chairs, faculty and staff. He says he needed to meet with and listen to his constituents. He has begun an audit of some staff to ascertain the demography of campus personnel under his care. He has met individually with Board of Trustees members, as a means of forging closer ties. He has engaged denominational stakeholders, the local pastors of the South Caribbean Conference and presidents of conferences and missions within the Caribbean Union. This outreach to those in the Caribbean Union is to initiate spiritual support and foster engagements for present and future initiatives. He has also set his radar on the Inter-American Division and the research opportunities and partnerships available through such linkages. He has begun talks with corporate stakeholders, such as Nestle Caribbean and academic institutions such as Howard University with a view to future collaborations. He has also strategically engaged state officials in various governments of CARICOM building-out his field of co-operation and relational resources in the region. The President has commenced alumni outreach and has also sourced sponsors who have already vowed financial support to USC. Additionally, Dr. Wilson has even made overtures to overseas sponsors who may have no specific links to USC, or who may never have donated to the university before.
Dr. Wilson often refers to USC as "Miracle Valley" [his term], where miracles still do take place.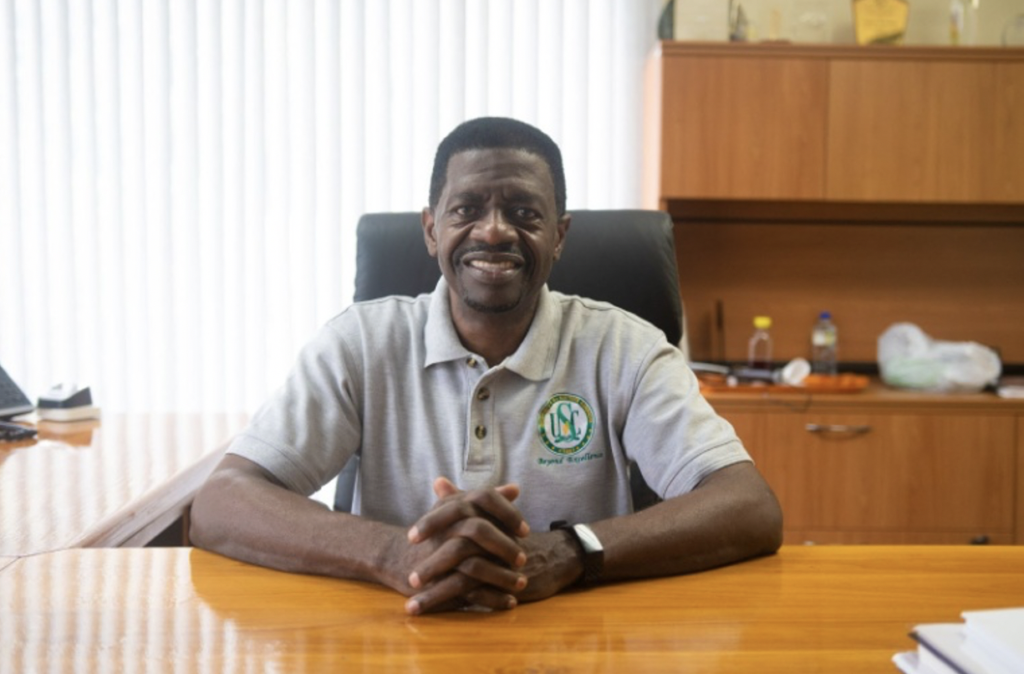 President Wilson sat for an interview in mid-October to discuss his vision and faculty matters and provided some intriguing insights.
His real reason for leaving his distinguished career in the US, to return to his alma mater, is rooted in a history of prioritizing Christian education and wanting to give back to the church and young people. He does admit he was encouraged by some close to him, to apply for the position, with hopes of closer collaboration and lucrative partnerships with sister institutions.
When asked about seeming intentional in engaging all stakeholders, and what he would like to achieve for faculty by the end of his presidency, Dr. Wilson had a bucket list including:
i. Faculty development
ii. Faculty contributing to national and regional discourses, in the media, on topical issues
iii. Faculty earning more attractive salaries with incremental annual wage increases
iv. Faculty participation in governance and operations of the university that is meaningful
v. Health and well-being of faculty and all employees
Note, Dr. Wilson also has great plans for students, alumni, the various extension sites and international stakeholders too.
He shared his views of the COVID-19 era and believes the greatest downside is the loss of life of so many people around the world, as well as the long-term health effects. Sadly, the President has lost many loved ones to the virus.
He sees the greatest blessing of the pandemic as the technological adaptations from which all have been able to benefit.
He admitted that what he most wished he had brought from the US to the campus are resources! Computers, lab equipment etc.
As a leader, he now sees his greatest weakness as his previous experience. That has affected his expectations and assumptions. But, as President of his alma mater, his greatest asset is his resilience. He is not fearful of the challenges and always strives for personal and professional growth.
So far, Dr. Wilson most appreciates USC's many Christian employees who are committed to SDA education. He describes them as caring, decent and passionate. He loves the prevalence of prayer on the campus and treasures the growth of the institution since his time as a student.
The slower pace of Caribbean life is tremendously appealing to him, as well as the culturally inbred "liming" trait of Trinbagonians.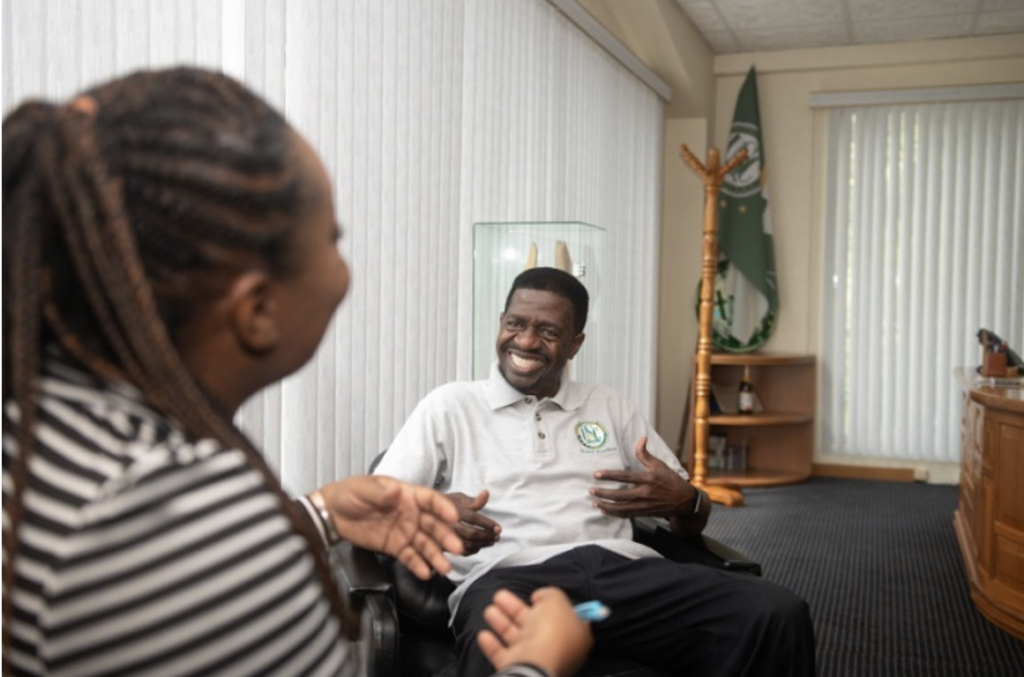 As the USC President's first 100 days in office has been shared, we do trust and pray that the inspiring and responsive leadership style evident in President Wilson will continue to advance the Lord's commission. His early initiatives portend a positive trajectory. Do continue to pray for the growth and success of this President and may God continue to lead him as he leads. Also, do continue to support USC by your donations, attendance or sponsorship.