Associate Student Body 2023/2024
You've cast your votes, and they've been counted! USC's Student Advisory Council (SAC) is pleased to present the Associate Student Body Executive for the academic year 2023/2024.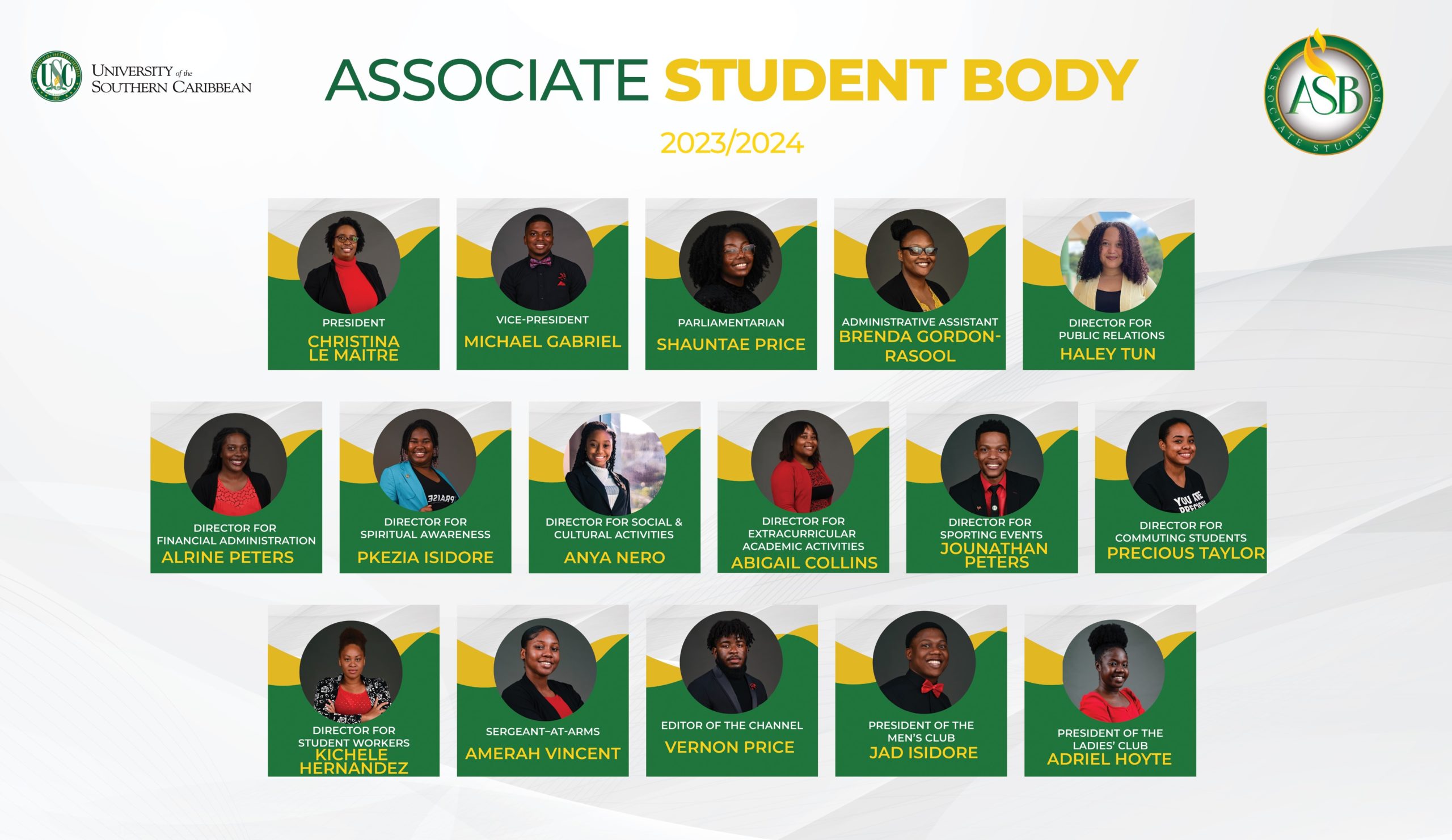 President - Christina Le Maitre
Vice President - Michael Gabriel
Parliamentarian - Shauntae Price
Administrative Assistant - Brenda Gordon-Rasool
Director for Public Relations - Haley Tun
Director for Financial Administration - Alrine Peters
Director for Spiritual Awareness - Pkezia Isidore
Director for Social and Cultural Activities - Anya Nero
Director of Extracurricular Academic Activities - Abigail Collins
Director for Sporting Events - Jounathan Peters
Director for Commuting Students - Precious Taylor
Director for Student Workers - Kichele Hernandez
Director for Non-native Speakers of English - Jean-Paul Milard
Sergeant-at-Arms - Amerah Vincent
Editor of the Channel - Vernon Price
President of the Men's Club - Jad Isidore
President of the Ladies Club - Adriel Hoyte
What are the responsibilities of the ASB?
To work with the administration in building a prestigious school.

To raise the level of student satisfaction by planning and executing extracurricular activities that is of interest and benefits to all students.

To make a difference in the community by implementing programs that will uplift and profit them.

To integrate academic and social learning in a way that demonstrates holistic education.

To avoid unnecessary conflict and to deal with uncomfortable situations swiftly and appropriately.

To inform the general student body of all decisions that directly affect student life.

Liaise with the administration on behalf of the general body on matters of significance.

Select members of standing committees.

Ensure publication of the ASB newspaper

Appoint individuals to represent the ASB on committees as directed by the vice-president of student development and services of the university.

Promote student unity.

Maintain the standards of the university and promote such among students.