Excellence Express Awaits!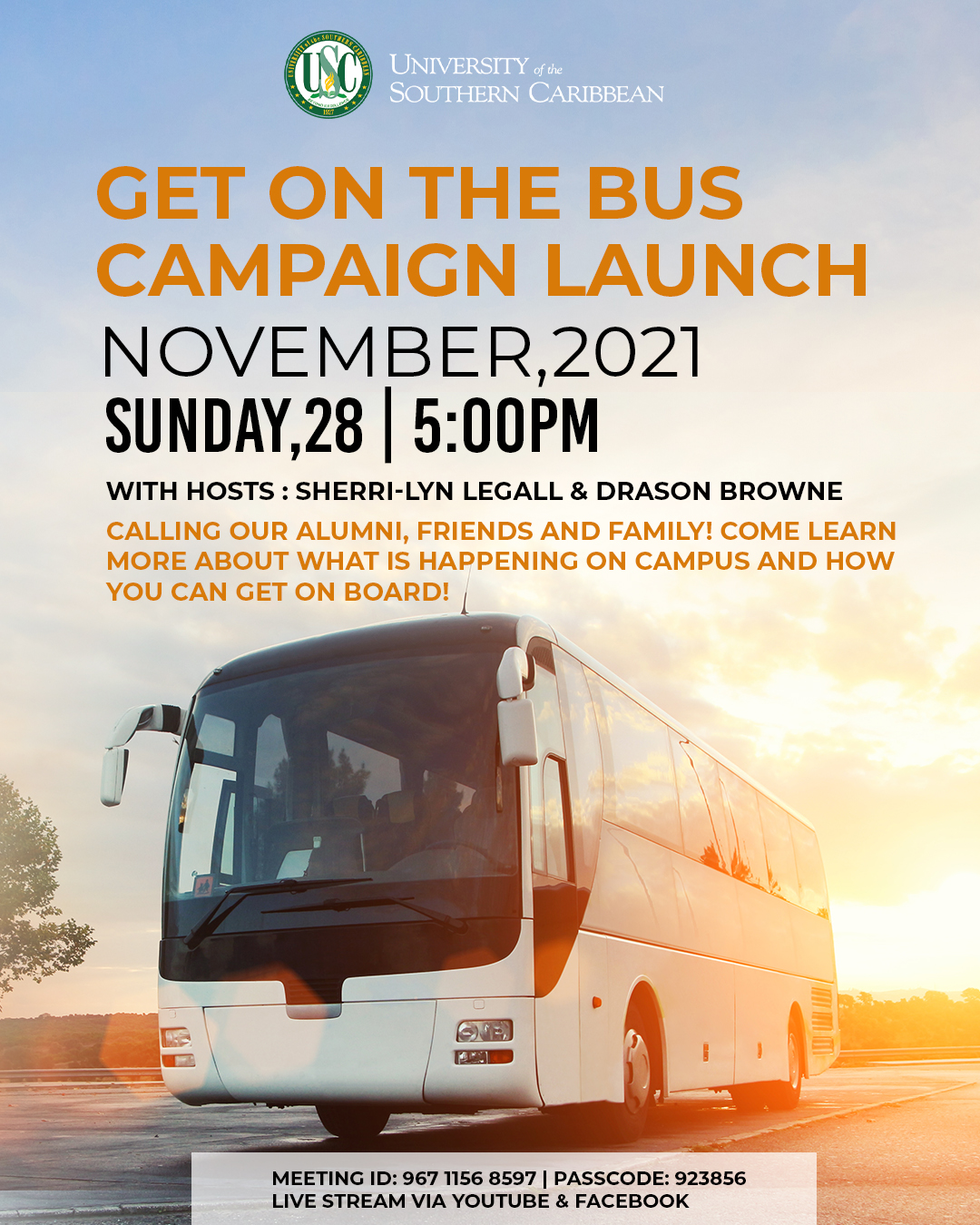 All Aboard!
Boarding call: Our fundraising goal for the evening is to book TWO HUNDRED seats at USD$600.00 per seat. Tune in to learn more about our priority projects and the Get on the Bus fundraising campaign. Boarding begins promptly at 5:00pm at the following gates: YouTube, Facebook and Zoom!
From Caribbean Training College to University of the Southern Caribbean, our voice in the valley has strongly echoed as we have grown in size, status and service to society. Throughout the years, though change has been a constant, we have remained steadfast in the quest for institutional progress and innovation.
As USC remains dedicated to the holistic development of the heads, hearts and hands of our USCian men and women we invite you to join us on our journey Beyond the horizon of Excellence! 
Get on the Bus as we raise TTD$3.4M for our priority projects:
Completion of the University Church

Student Scholarships

Furnishing of the Timothy Greaves Residence Hall

Furnishing of the newly constructed School of Nursing and Allied Health
Book your seat on Excellence Express today - tickets start at USD$600.00!
We call on your passionate generosity to secure the continuation of our celebrated legacy of providing transformative education on pillars of Intellectual Curiosity, Cultural Diversity, Moral Integrity and Spiritual Nurture.
With your support today, our future alumni will undoubtedly return the favor to the USCians of tomorrow!

Cashapp
Pledges
Thank you for pledging your support to USC.
Bank Deposit & Online Transfer
Payments at the Bank and Online Transfers (TTD):
RBC Royal Bank Account Number (Savings account): 1000-040-102-13404

Republic Bank Account Number (Chequing account): 3501-594-29201
Credit Card
Instructions:
Enter the third party payment key: 47938727

Select the "Payment Type" as Donation

Currency amounts can only be written in Trinidad and Tobago dollars. (Conversion USD$1.00: TTD$6.70)
Cheque
Payable To: USC Alumni Association, N.A. INC
Mailing Address:
P. O. BOX 11277
Takoma Park, MD 20913-1277
On cheque or supporting note indicate the specific project to which you are donating: Scholarships/ School of Nursing and Allied Health/ Ladies Residence Hall/ Timothy Greaves Residence Hall.
International Wire Transfer
International Wire Transfer (USD):
Beneficiary: University of the Southern Caribbean

Beneficiary Address: Maracas Royal Road, St. Joseph

Beneficiary Account Number: 1000 180 103 16573

Beneficiary Bank Name: RBC Bank T&T Ltd.

Beneficiary Name Bank Address: St. Augustin Shopping Centre, EMR, St. Augustine Swift Code: RBTTTTPX

Intermediary Bank: Bank of New York

Intermediary Bank Address: 48 Wall Street, NY, NY, USA ABA/Routing: 021-000-018

Intermediary Bank Account: 890-0016-329 in the name of RBC Bank T&T LTD