Tuesday, 21 November 2023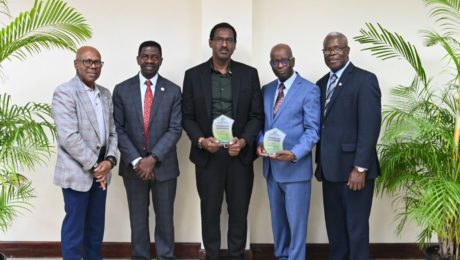 By Kadan Esson, Nadira Mohammed
On Friday, November 10, 2023, the University of the Southern Caribbean (USC) launched its Leadership Academy (USCLA) with the tagline "Leadership Matters". This initiative is set to reshape the future of leadership within our beloved USC and resonate far beyond.
USCLA's inaugural session kicked off with welcoming remarks from USC's Director of Human Resources, Mrs. Marsha Harris, and President, Dr. Colwick Wilson. Dr. Wilson closed with words of empowerment by commending all the student leaders who carry the mantle of perseverance and applauding their passionate drive.
The launch's keynote speaker was quite a familiar face to the USC community, Dr. Leon Wilson, Professor and Chair, Morgan State University, formerly served USC as Provost in 2018. Dr. Wilson's keynote topic of "So You Want To Be An Academic Leader! Why Bother!" captivated the audience as he shared insights from his impressive academic career on what not to do as an academic leader.
Dr. Wilson shared that, "The value of academic leaders lies in the recognition of unique contributions each one can make, celebrate, and avoid shutting it down but letting it flourish and grow." He stated that one of the world's biggest problems is that there are people who do not harbor the skills and have not been exposed to anything but themselves, yet want to be leaders in the academy and leap to the top while ignoring the values of experiences. He left us with a reminder that "Leadership is centered on the idea of building and maintaining relationships."
Specially invited guest, Mr. Dexter Riley, CEO of Unipet and USC alum shared observations and anecdotes from his decades of leadership that provided motivation and inspiration to USCLA attendees.
Drawing from his personal life, Mr. Riley described himself as a family oriented man who continues to be guided by values instilled by his mother. Referencing the story of Noah and the Ark, Mr. Riley highlighted the value of trust, planning, preparation, and building for the future. Mr. Riley attributed trust as the bedrock that kept UNIPET together, he further expanded that, "…leadership is not about being in charge but taking care of those in your charge."
About USCLA
USCLA is designed to foster the growth of ethical, visionary, and transformational leaders from all backgrounds who can make a positive impact at the University and by extension society. USCLA aims at targeting Administrators, Deans, Chairs, Directors, and Coordinators who are pivotal to USC's success. It seeks to inspire, educate, and empower individuals to become ethical, visionary, and transformational leaders. USCLA combines theoretical foundations with experiential learning to ensure that participants not only acquire knowledge but also develop the skills and attitudes necessary for effective leadership; that align with the university's mission, vision and overarching objectives.
USCLA's Mission and Objectives
USCLA's mission is to inspire, educate, and empower individuals to become leaders driving positive change. We envision leaders guided by integrity, empathy, and commitment, leading with purpose, inspiring innovation, and fostering sustainable progress.
The academy seeks to upskill leaders through comprehensive training, provide real-world experiences, and foster a culture of ethical leadership. Our goal is to cultivate leaders embodying the highest standards of excellence, representing principles like authenticity, continuous learning, collaboration, and more.
With a mix of local and foreign facilitators/practitioners boasting extensive leadership experience, USCLA promises an enriching learning journey. Our diverse training programs cover Leadership Essentials, Organizational Impact, Development, Relational Leadership, Emotional Intelligence, and more. Tailored to address various leadership facets, these programs aim to enhance USC's leadership potential.
USCLA is not just an academy; it's a commitment to shaping leaders who will inspire, innovate, and drive progress. Leadership matters, and at USC, we're investing in ours.